Digital Marketing & Website Design That Grows RMR & Reduces Attrition.
We specialize in simple, effective digital marketing tailored to the needs of the electronic security industry.
Data-Driven Website Design
Professional, SEO friendly web design that is built to convert leads into buyers and referring customers.  Our professional team at AlarmBrand has built hundreds of websites for alarm companies that generate RMR year after year. Our WordPress websites are mobile friendly and so easy to edit that a caveman could do it. 
NextDoor, Google, Facebook & LinkedIn Ads
Get new leads from NextDoor, Google, Facebook, LinkedIn, & Microsoft Ads to fill your sales pipeline within a couple of weeks. Our experts target your ideal prospects by location, age, gender, income, time of day and more, driving them to landing pages that convert them into sales inquiries. 
Sales Leads on Autopilot
If you are tired of missing sales opportunities, chasing leads only to let another one fall through the cracks then it is time to put some intelligent sales and marketing automation to work in your business. AlarmBrand will put your follow up and sales on autopilot so you can focus on high value leads that lead to quicker RMR.
Grow Faster, Win More Deals, and Deliver Better Cutomer Experiences
Mobile Ready. Easy Management.
Professional, results-driven copy and design. 
NextDoor, Facebook. LinkedIn, Bing
Quality traffic, delivered.
Get Found. Convert Traffic.
Page 1 results for the words that matter most.
The Right Message. The Right Time.
Connect with your audience. Grow your list.
Every Channel. 24/7.
Managed, engagement-driven content.
Top, Middle, Bottom
Custom messaging in each stage of the cycle.
Google, Yelp, Facebook
Enhance your reputation. Convert more leads.
Ditch The Old Web Form
Professional, sophisticated sales enablement.
One Unified Inbox
Never miss a web message again.
Managing Websites for Dealers, Associations, & Monitoring Centers That You Know & Trust.
Association websites have unique challenges. The CAA approached the team at AlarmBrand to redesign their existing website so they could grow their membership, unify their brand communications and easily manage outbound marketing campaigns.
We Were Doing Digital Marketing for the Alarm Industry
When You Were Still Using a Blackberry.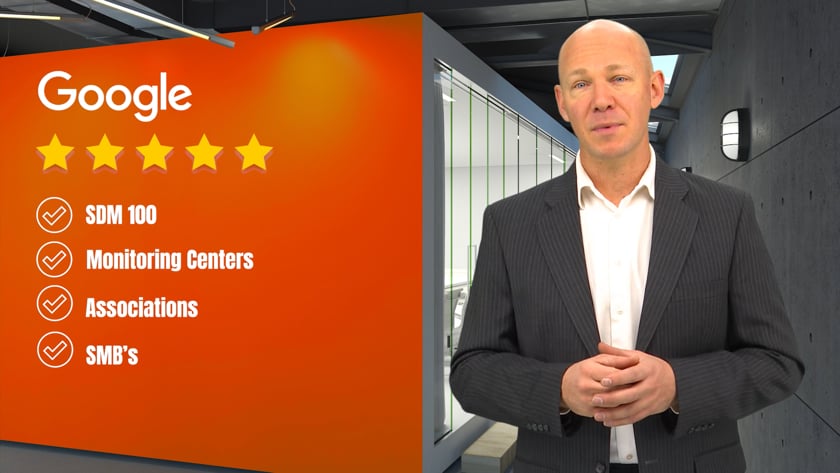 Before IoT was a thing and smart home security was just emerging, we were using cutting edge digital tools to give our clients a leg up on the competition. Fast forward to 2023 and we're still going strong. AlarmBrand is the marketing agency of the California Alarm Association, NYELSA, the Arizona Alarm Association, the WBFAA, OFSSA, Monitoring Centers, SDM 100, life safety and low voltage contractors across the USA.
Starter
$1,550
/ mo.
Website SEO
Local Listings Management
Blog Content Writing
Google Business Profile
Phone Call Tracking
Marketing Reports
Regular Review Meetings
-
-
-
-
-
-
-
-
-
Plus
$2,450
/ mo.
Website SEO
Local Listings Management
Blog Content Writing
Google Business Profile
Phone Call Tracking
Marketing Reports
Regular Review Meetings
PLUS...
Voice Search Optimization
Online Review Generation
Email Newsletters
-
-
-
-
-
Pro
$4,000
/ mo.
Website SEO
Local Listings Management
Blog Content Writing
Google Business Profile
Phone Call Tracking
Marketing Reports
Regular Review Meetings
PLUS...
Voice Search Optimization
Online Review Generation
Email Newsletters
GO PRO....
Business Texting
Social Media Marketing
Sales Funnel Automation
Market Exclusivity
Starter
$4,250
Custom Design: 7 Pages
Launch in 30-45 Days
Stock Images & Video
Content Writing
Blog / News
Careers Page
Referral Page
Monitoring Takeover Page
Industries & Technologies Page
Integrated CRM w/ Mobile App
Marketing Training: 2 hrs
Hosting & Support: $149/mo.
-
-
-
-
-
Plus
$6,520
Custom Design: 10 Pages
Launch in 45-60 Days
Stock Images & Video
Content Writing
Blog / News
Careers Page
Referral Page
Monitoring Takeover Page
Industries & Technologies Page
Integrated CRM w/ Mobile App
Marketing Training: 3 hrs
Hosting & Support: $179/mo.
Email Marketing Set Up
-
-
-
-
Pro
$9,250
Custom Design: 15 Pages
Launch in 60-90 Days
Stock Images & Video
Content Writing
Blog / News
Careers Page
Referral Page
Monitoring Takeover Page
Industries & Technologies Page
Integrated CRM w/Mobile App
Marketing Training: 4 hrs
Hosting & Support: $249/mo
Email Marketing Set Up
Local SEO & Voice Search
Sales Funnel Set Up
Automation Set Up
ChatBot Set Up
Free eBook: 5 Website Mistakes That Are Costing You Money, & How To Fix It
Discover the secrets to creating a website that converts leads into long-term customers with our FREE eBook, "5 Website Mistakes That Are Costing You RMR, and How to Fix It." In this free eBook, we'll reveal:
Why a poorly designed website is costing you RMR
Tips on SEO (search engine optimization)
How to offer valuable content that keeps visitors coming back
How to convert visitors to leads with a strong call to action
Convey trust and authority that results in sales
5 Star Reviews From Brands You Know & Trust
Contact
AlarmBrand
100 Powell Place
Nashville, TN 37204
(615) 570-1971